If a horse could have a mission statement it would be 'Act first, think later.' Riding a fresh horse down a road in a breeze, or move too quickly when handling your horse and you will understand that statement perfectly. For thousands of years, the horse's greatest protection has been his ability to move out of the way of danger – and quickly.
Anyone who has spent any time around horses cannot fail to be awed by the calm behaviour of the fabulous animals who patrol our city streets.
Mounted police are employed in crowd control because of their mobile mass and height advantage and increasingly for crime prevention and high visibility policing roles. The added height and visibility that the horses give their riders allow officers to observe a wider area, but it also allows people to see and fine the officers when needed, which helps deter crime. Some mounted police units are trained in search and rescue due to the horse's ability to travel where vehicles cannot.
Mounted police are used most often seen at football matches, although they are also a common sight on the streets of many towns and cities as a visible police presence and crime deterrent during the day and night.
The history of the mounted police force in England
The use of horses by the police force goes back to the eighteenth century – to the very roots of police work in London.
Their history began in 1760 when Sir John Fielding, the Bow Street magistrate, developed a plan for mounted patrols to deal with the plague of highwaymen infesting the metropolitan area's turnpikes. The plan was so successful that the original Horse Patrol of eight men was strengthened to more than 50 in 1805. The Bow Street Horse Patrol could then provide protection on all main roads within 20 miles of Charing Cross. Their scarlet waistcoats, blue greatcoats and trousers and black leather hats and stocks, were the first uniform issued to any police force in the world.
With the coming of the railways, the need for Mounted Bow Street officers to protect travellers against the depredations of the highwayman on the roads ceased. Around this time rural unrest and poverty were leading to more and more livestock thefts in the countryside and the men and their horses were given this task. These patrols were looked on as so dangerous that the Officers carried a revolver and sword.
The modern day organisation of today's Mounted Branch began in 1919 when Lt Col Laurie, the ex-Commanding officer of the Royal Scots Grey Regiment, took up the appointment of Assistant Commissioner in the Metropolitan Police.
One of his responsibilities was to reorganise the Mounted Branch. It was at his instigation that the old Remount Depot at Adam and Eve Mews in Kensington was closed and a new Training Establishment was built at Imber Court in Thames Ditton. It was here that the new Mounted Branch was to emerge, trained in riding and horse management with new crowd control tactics that still largely hold to this day.
Police officers from all over the world have been trained here along with the regular intake of eager recruits. It was here in 1971 that WPCs Margaret Goodacre and Ann McPherson were to make history as the first women police officers to join the Mounted Branch.
Imber Court today has facilities for the training of both horses and officers. It also houses a small museum documenting the development of Mounted Police and is the administrative centre for the Mounted Branch.
The horses and their tack
For the most part, the life of a police horse is pretty good. However, a police horse must have a foundation that not only allows his human partner to enforce the law but is a true partner in that process. Whether the horse needs to hold an excited crowd or gallop down the street after a criminal. He must be responsive to his rider and desensitized against the environment around him. Police horses with their rider's permission, push against people, normally horses are trained horses to give way to us, but these horses must be able to push against people when told that is their duty.
Most of the horses use originate from Ireland and are chosen from a selection of sources that know the requirements of the Police force. A half or three-quarter bred animal has been found to be best suited to police work, combining the spirit of a Thoroughbred with the strength and stability of the Draught. The training at Imber Court is individualized for each horse, and usually lasts six months, although it can take up to two years to completely desensitise a young horse.
Tack used by mounted police is similar to standard riding tack, with adaptations for police use. Synthetic saddles are often favoured over those made of natural leather to reduce weight. This is important both because of long riding hours and because police officers must carry numerous articles of personal equipment. High-traction horseshoes made of speciality metals or fitted with rubber soles are typically used in urban areas in place of standard steel horseshoes, which are prone to slip on pavement. Rubber soled shoes also produce less noise than steel shoes and jar the hoof less. Horses working in riot control wear facial armour, made of Perspex so that the animals can still see. The officers themselves are often equipped with especially long wooden or polycarbonate batons for use on horseback, as standard patrol batons would have insufficient length to strike individuals at ground level.
Training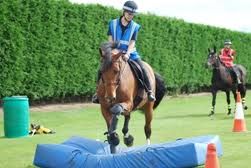 Specific objectives of training include creating a generally user-friendly horse, free of any unsafe behaviours (barging, bolting, striking, kicking, and biting). He should be fully experienced and acclimated to specific environments and situations related to police work, and he should be bold and accepting of novel and/or aversive stimuli and situations, even those considered challenging for trained horses.
These horses should be able to work alone with one rider or handler, and work with a team involving other horses and handlers and/or colleagues with bicycles, motorcycles, emergency vehicles, or police dogs.
Mounted Police Forces around the world
New South Wales Mounted Police
The New South Wales Mounted Police Unit is a mounted section of the New South Wales Police Force, and the oldest continuous mounted group in the world. Currently, they have a strength of 36 officers and around 38 mounts and their duties include traffic and crowd management, patrols, and ceremonial protocol duties.
Royal Canadian Mounted Police
A well-known mounted police force is the Royal Canadian Mounted Police (RCMP), although horses are no longer in use operationally. However, horses are still used in the Musical Ride as well as by several provincial and municipal police detachments.
Royal Oman Police
The Royal Oman Police have both horse and camel mounted troopers.
US Border Patrol
The United States Border Patrol had 200 horses in 2005. Most of these are employed along the U.S.-Mexico border. In Arizona, these animals are fed special processed feed pellets so that their wastes do not spread non-native plants in the national parks and wildlife areas they patrol.  The Houston, Texas Police Department's Mounted Patrol Unit has become increasingly well-known due to the decision to, over time, remove the shoes of all its mounted horses and embrace the concept of naturalizing their horses' diet and care in addition to riding them barefoot.
United States cities
Many cities in the United States have mounted units, with New York having one of the largest with 79 officers and 60 horses, but numerous mounted units in cities around the United States were disbanded or downsized in the 2010s. For example, units in Philadelphia, Boston and San Diego were disbanded by 2011, while New York City's mounted unit was reduced considerably over the last decade with 79 police officers and 60 horses in 2011 – down from the 130 officers and 125 horses it had before the downsizing.
Police horses are today's true working horses, on duty for the benefit of society, as well as for public relations. They work in all seasons, in all weather, and in all types of environments, from school visits to riots at sporting and political events.