02 September,2017
So here I was, August 2016 sat at my desk in my full time marketing job thinking of ways that I could break the monotony of full time employment. I was absolute rock bottom in confidence, I was too scared to ride, failing miserably at being a good wife and losing momentum with life in general. I think the thought process was more to occupy my brain than to start something monumental, but there it was… That afternoon I built a Facebook page. In Microsoft Word I designed my logo, and added everyone I knew to get me started (50 people I reckon!). Other than brain diversions, the main reason I wanted to create the page was to avoid becoming a wife that constantly whined on about everything equestrian to a husband that didn't really understand. The money and time I spent with my horse was making me feel an enormous sense of guilt and I wanted to vent to people that felt the same or at least ones that might well sympathise.
I don't even remember deliberating over the name of it, the content or the way I wanted to be perceived, I was me and that's all I had! I grew some balls in the riding side of life and documented my 'one step forward, six steps back' journey with absolutely no filter. It didn't matter if I was sad, angry, happy, encouraged, depressed or lonely – I held nothing back. I grew very fond of talking to my audience, I fell in love with it. By Christmas I had around 500 followers, every time I got a new one I would message my husband and tell him – I was that excited.
I can't really explain what happened after that. It was like a steam roller. My hunting exploits that I documented on the 30th December reached over 35,000 people, my following rocketed to thousands in a matter of weeks. I joined British Eventing and started my competitive journey which brought a whole new group of people to view my posts. The support I receive before, during and after each show soothes my nerves to an extent. Without the backing and promises I had made to everyone on the page, I would have been withdrawing at every event. Instead we went out to each one and I rode for my life. 4 events at BE90 and 3 placings, I couldn't believe it – remaining genuinely shocked and humbled by what I was achieving after being so downtrodden for so many years.
My following has now grown to over 14,500 people on Facebook alone and posts can reach up to 100,000 on a good day.
The real deal for me is how much power and influence I have to help others. I have never been the charitable type but this has changed my life. I long to help others now, I know where I came from mentally to achieve this – I know I can make it work for other people too.
By February I had a few followers suggest that I write a book to document this journey – NEVER in a million years would I have come up with this on my own- I am no scholar I can tell you! But there it was – the start of another journey. I write first draft and never ever go back – everything you read in this first book (and all that will follow) is straight from the depths of my soul, I've poured my feelings into the books and thank goodness they have been so well received!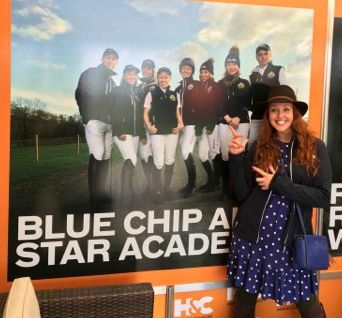 In March I entered a competition to win a place on the Blue Chip Allstar Academy TV show airing on Horse and Country TV – to my utter AMAZEMENT I got through and spent a week at Talland School of Equitation filming 5 x hour long episodes. It was a wonderful experience and would be sure to help my journey sky rocket.
The first book, 'How to get your leg over' has been the very best experience of my life. I self-published from start to finish. I wrote the book, googled how to lay it out, my husband helped with the cover design and font choices and I trotted off to a local printing firm for a bash at printing – I chose the paper, the cover stock and even watched it come out of the printer in raw 16pg format! It arrived in my hands on a Wednesday – I will never ever forget the feeling of being handed MY book. Never. I was in awe of what I had created, I'm only small, and so very unassuming – but look what I've done. The book went out to pre-order in April and by May we were on sale. I sold almost 2000 books throughout May and it doesn't appear to be steadying out just yet. I have some VERY exciting opportunities ahead and the next book is started ready for release in time for Christmas. My husband and I both work full time jobs and in the evenings we package books on our living room floor with the help of our cats!
In a fortnights time we are relocating 200 miles north back to my home county of Lincolnshire. I will be setting up a Marketing consultancy and with over 35 hours a week already spoken for, I will be busy from the outset. The peace and serenity of the Lincolnshire countryside will give me the chance to pour out my feelings into my books on a summers evening that's for sure.
Who knew what the last 6 months would bring; who could have guessed that I would be a self-published, international author? That I would be on national television and be setting up my own consultancy – I couldn't have half predicted it.
I have worked so hard for this and it hasn't always been a good ride; I have had the WORST heart palpitations that landed me in A&E, I had tremendous 2 week long flu, I had sleepless nights, over 50 bottles of wine and cried tears of frustration more than once. But, it is SO worth it. I won't advocate making yourself ill but seriously; you should push your limits, you should break that monotony and you WILL be able to grab the tails of your dreams I can assure you. I have, and I really am just very ordinary.
Please visit Victoria at https://www.wimpyeventer.com/
0 Comments