I haven't blogged since before Christmas – the abysmal weather coupled with the behaviour of the subject of my posts have been too depressing – so this means you're in for a long, rambly post!
Scarlet has been back in work since the new year, with her abscess finally all cleared up and her hock pronounced as healing well by the vet. Unfortunately any brain cells that were desperately clinging on in the vast chasm of her stupid empty head have gone on holiday for the winter, and don't seem to be in any hurry to come back. She's been an absolute monster. I'm not unreasonable, I understand and appreciate that she's been out of work for a year and with the vile weather her turnout is limited to a weekly hoolie round an incredibly muddy paddock, so of course she's entitled to a few high jinks when she's out and about.
However.
Her behaviour is not limited to a few high jinks. Her spirits aren't so much so 'high' as 'stratospheric'. The frustrating thing is that often we can be halfway through a ride and she'll suddenly go bananas, with no warning whatsoever. Maybe she'll see a bird flying in the distance, or a dog walker, or, heaven forbid, another horse out in the lane. I can cope with her silliness, the odd spook and head toss, etc., but I can't cope with her utter hysteria at these times. It's like she just loses the plot, and there's no reasoning with her. After maybe five to twenty minutes of turning herself inside out (which usually involves standing up, bucking, piaffe, pawing the ground, reversing, chucking her head so high she clonks me on the nose) she'll calm down and hack home quiet as a lamb (sort of, depends on the lamb in question, really). For a while I was riding out with my mum walking with us, clutching a lead rein just in case – if I come off, the last thing we want is for Scarlet to be haring down the lane minus any humans. But as of last weekend, I've decided she's just too terrifying to ride at the moment. So we're long reining lots, and waiting for the fields to dry out so she can get some proper turnout and work off some steam. It's going to be a bloody long wait, but she's a danger at the moment when she goes bonkers.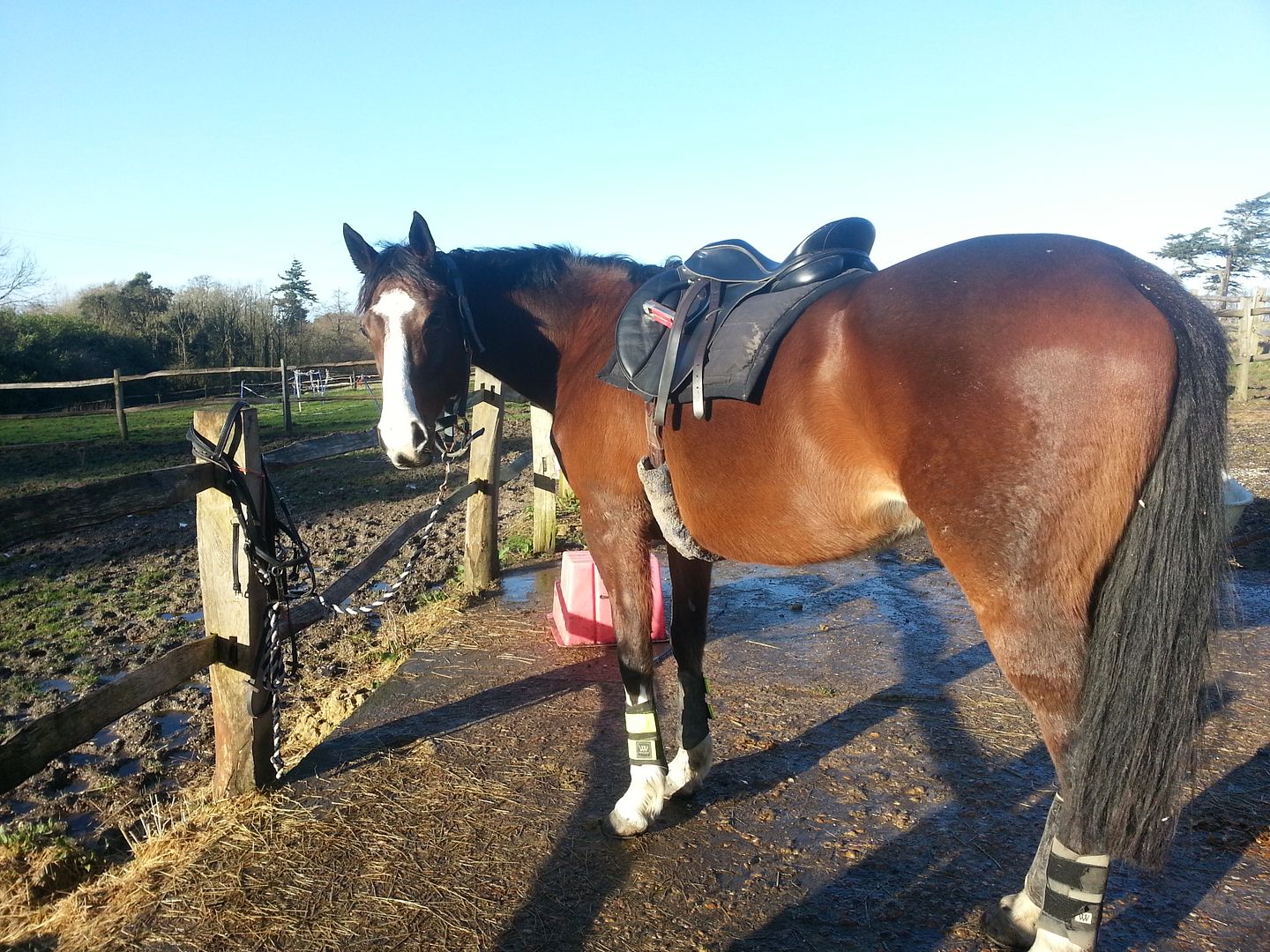 Not that long reining is much safer, to be honest. She still throws her huge strops, but it's preferable to on the ground than in the saddle when she does. And it is cheering, in an odd way, that she'll go nuts regardless of whether she's under saddle, ie. it's not my electric bottom that winds her up. Last weekend was a classic example of her completely losing her head and being a danger (although it wasn't her fault, honest…) We long reined her down a private lane up to a livery yard, which runs between two 5ish acre fields and is topped and tailed by cattle grids. The fields are unfenced where they border the lane, so in the good old days I would school her at the livery yard and give her a canter home along the edge of the field as a reward (she was always good as gold…*sob*). Anyway, we had done the gate at the first cattle grid and were nearing the second, and she was behaving herself despite the wind, when an Asda van came hurtling down the lane towards us, approaching the cattle grid. I was at the front leading her, with Mum at the back holding the long reins, and we both put up our hands to ask the driver to slow right down. We were also decked out in high vis, so he definitely saw us. He zoomed down and whizzed over the cattle grid, making a godawful racket, and Scarlet whipped round and tore off in the opposite direction, with us hanging on to the long reins. She was forced to stop by us hanging on, but of course she didn't just stand still – she tied herself up in knots by jumping up and down, doing handstands and cartwheels. This frightened her even more, and she wrenched the reins out of our hands, and set off at a gallop down the lane, heading straight for the first cattle grid.
Mum sprinted off across the field hoping to cut her off (fat chance, she's a Thoroughbred), while I dashed off down the lane (was I hoping my stumpy legs would somehow catch up with her?!). The Asda driver had slammed his brakes on as soon as Scarlet whipped round, and was nervously crawling along the lane behind us. All that was flashing through my mind was, oh my god she's going to try and jump the cattle grid, she'll break a leg and have to be put down, and I haven't even paid off her last vet bill yet. (I didn't really think that.) I waved furiously at the van driver, gesturing for him to drive up, which he did, and I threw myself in his van, screeching at him to drive me up until I said otherwise, and possibly threw in a few choice insults and threats at the same time – he certainly put his foot down anyway. When we got round the corner in view of the cattle grid I saw to my immense relief that Scarlet had roused a few of those MIA brain cells and had halted at it. The long reins and lead rein were tangled round her legs, so I have no idea how she didn't go crashing to the ground when she bolted – my shoelaces only have to be undone for a second before I'm flat on my face. I shrieked at the driver to stop, threw myself out of the van and jogged towards Scarlet, trying to keep my voice friendly and approachable (pretty sure I didn't achieve it). Bless her, she tripped her way towards me, just as Mum came hurtling down the hill, looking as shocked and terrified as I felt. We untangled her and checked her over, and thankfully she was fine, no cuts or lameness. The traumatised van driver was still glued to the spot (I think I bellowed DON'T BLOODY MOVE at him as I departed his passenger seat) and we crept past him and continued with our walk. I gave him a nod as we went past, to show that I wasn't going to murder him and the horse was OK. He wiped his sweaty brow and drove off, considerably more slowly than before!
I'm thinking quite hard about getting something else, because if she carries on being a lunatic I won't be able to do much with her, she'll have to be retired (which she would LOVE). Fingers crossed that it's just a combination of being confined to a stable for the best part of a year plus next to no turnout plus appalling weather which is making her loopy, because she has way too much talent and heart to be cast aside. It's just odd that she's only now decided to be crazy – why not two months ago or six months ago? Was there some kind of trigger, or has she just reached her limits of sanity? I've just started her on a valerian based supplement, so I'm hoping that will help take the edge off. She's always been a bit of a loon, but in a manageable way – when she goes nuts now there's nothing I can do as a rider to stop it, and that's really scary. In the meantime, I guess I'll have to start training young Comet up to be my new event horse – he's in his twenties and stands approximately 32" high, but he does love a party…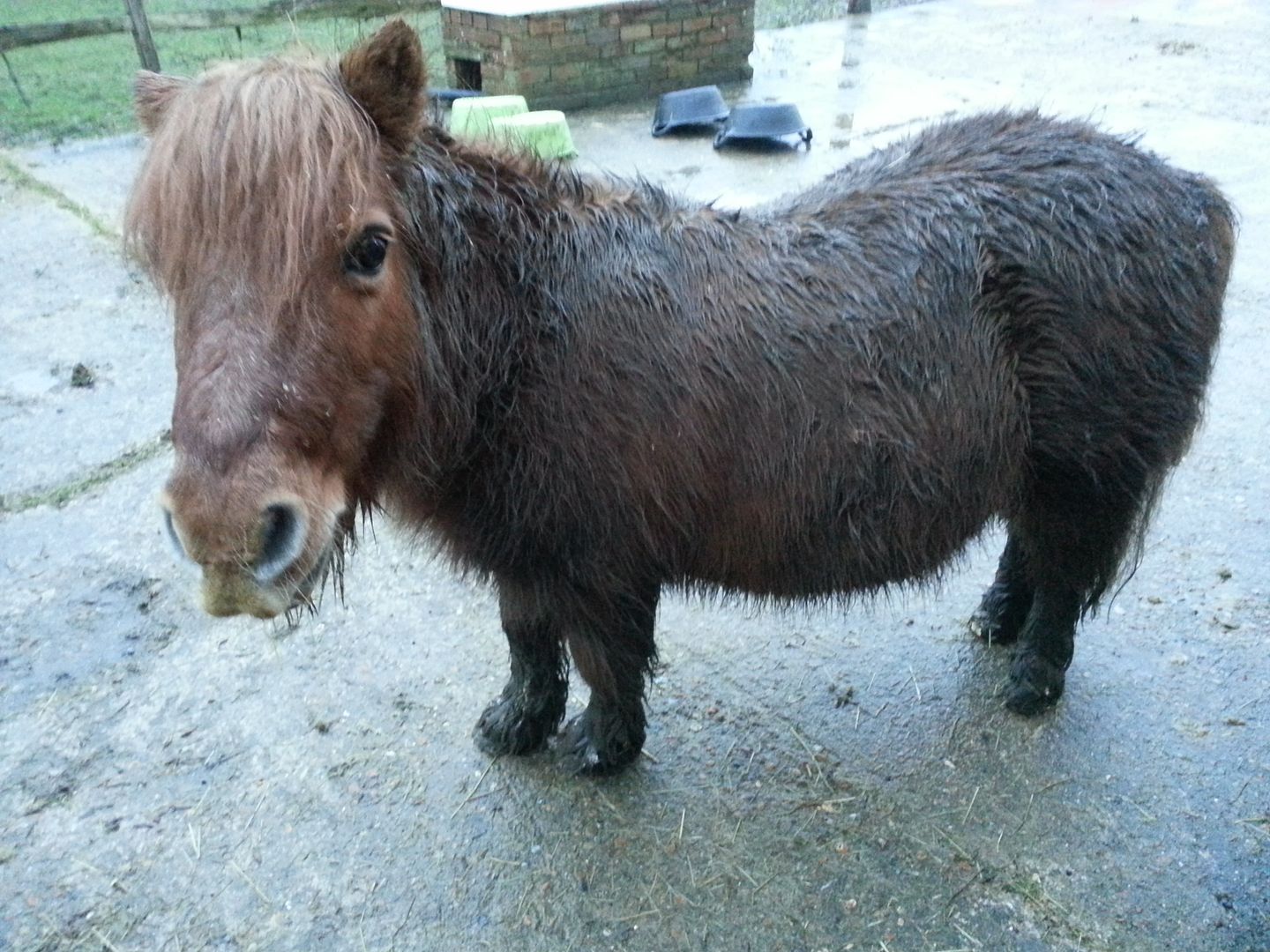 If anyone has any similar experiences, please do share them with me!
Written by Laura Paine of Dragonfly Saddlery