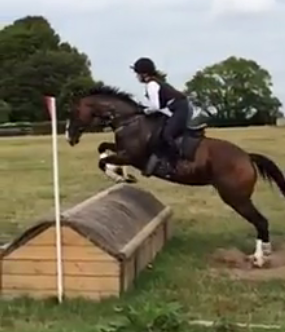 It's been an exciting month for me and my naughty ex-racehorse, Scarlet. We were on something of a high through June and July, with lots of outings and lessons - and even a rosette! Perhaps we peaked too soon, as August has been something of a damp squib…
Our last show jumping outing was to Golden Cross, for the unaffiliated classes in their lovely grass arena. It was going to be a real educational outing for Scarlet, as the warm up is in a very spooky indoor school, where you have to ride through a funnel to get in and the open viewing gallery is accessible via a loud, hollow sounding staircase right next to the long side of the arena. We had our usual loading issues, and eventually manhandled her in after about an hour. We unloaded at the venue and were pleasantly surprised by how quiet she was. She soon woke up when I asked her to go into the indoor school, and we spent an enjoyable ten minutes cavorting around going every direction but forwards, until a green 4 year old gave us a lead.
She warmed up fairly well, a bit behind the leg because she was spooking and I was too jelly-legged to get my leg on. There were a couple of babies (actual babies, like, 4 year olds, not like my idiotic ten year old) warming up with us, and they showed us up by popping the cross pole nice and quietly. Scarlet had a predictable meltdown when I suggested she try and jump it too, but she took a deep breath and shut her eyes and we leapt over it a few times. Off we went to the outdoor arena to jump the 1ft6 course, and we went clear! OK, we stopped at the first fence, but apart from that it was clear. However, there were no fillers, so she had no excuse really.
There was another, smaller grass arena running clear rounds concurrently, and you could choose your heights, so after a few more jumps in the warm up, we went in and attempted a 2'3" course with some fillers. She ground to a halt a few times, but a few Pony Club kicks and plenty of growling encouraged her forward, and we finally got what I thought would elude us forever: a clear round rosette! I was all for calling it a day there and going home, with most of my dignity still intact, but as the proud owner of a pushy Pony Club mother, I found myself back in the ring facing a 2'6"-2'9" course. Scarlet had finally caught on to what I was asking of her, and I was thrilled to bits with her, she really flew! We had a skinny down, which was total rider error (it was on a related distance and I messed up the shot to it), so we came away with just the one frilly, bringing our total frilly tally to an thoroughly unimpressive THREE, earned in 4 long, unrewarding years.
Next up was a freestyle cross country schooling session at Coombelands. She came out of the lorry nice and quiet, interested but not manic, which is still a pleasing novelty to me. She warmed up pretty well, trotting and cantering and bending, and popped the first couple of small warm up fences really nicely. We cantered up to a very innocuous tyre fence, had a nice rhythm and good shot to it, and suddenly I found myself flat on my back on the ground. The little witch had decided the tyres weren't to her taste after all. Mum dusted me off, Holly trudged off to catch the horse and I asked myself for the eight millionth time why I spend so much time, money and energy on such an ingrate.
Safe to say that dented my confidence more than a bit, and rather than pushing on and jumping the meatier fences, we went back down to jumping small, straightforward fences, like logs, brushes, etc. I felt that I couldn't trust her at all, which made me ride really defensively (OK, badly). Luckily Scarlet decided to start behaving herself halfway round, and we jumped some decent fences, and by the end we had built our confidence back up. We even went back to the beginning to jump the tyres, which she flew.
The next battle was the loading issue. Scarlet takes about an hour to load at the moment, and we usually need the help of a couple of strong men to eventually lift her in, when we tire of the merry dance at the bottom of the ramp. So obviously it's not ideal. There will come a day when I'm whisked off to A&E and we'll have to rely on the kindness of strangers to get her home (or deposit her by the side of the motorway, depending on what she'd done) and that kindness will evaporate within five minutes of Scarlet being a mule. It's massively inconvenient that she won't load quickly and quietly. So I called a guy. He was listed on the Monty Roberts website, and having seen Monty deal with bad loaders we wanted to go down that route of understanding why Scarlet doesn't want to go in the horsebox. He came out and was very nice, and Scarlet took to him immediately which is very unlike her! He really knew his stuff, but I suspected he underestimated just how stubborn my horse is.
Three hours later, and he admitted he had underestimated how stubborn she is.
I asked him how it was that Monty seems to get horses to load within ten minutes at his demonstrations, and he said that horses like Scarlet wouldn't be selected for a demo. They choose horses who are frightened of loading, because Monty wins their trust very quickly until they follow him anywhere. Horses like Scarlet, who have just picked up a bad habit, would make for very boring demonstrations with no guarantee of success. He gave us some homework and left, advising us not to expect miracles but to work on correcting both our bad habits (I indulge her and let her be the boss because she's adorable) and eventually she'll twig that it's easier and expected of her to load.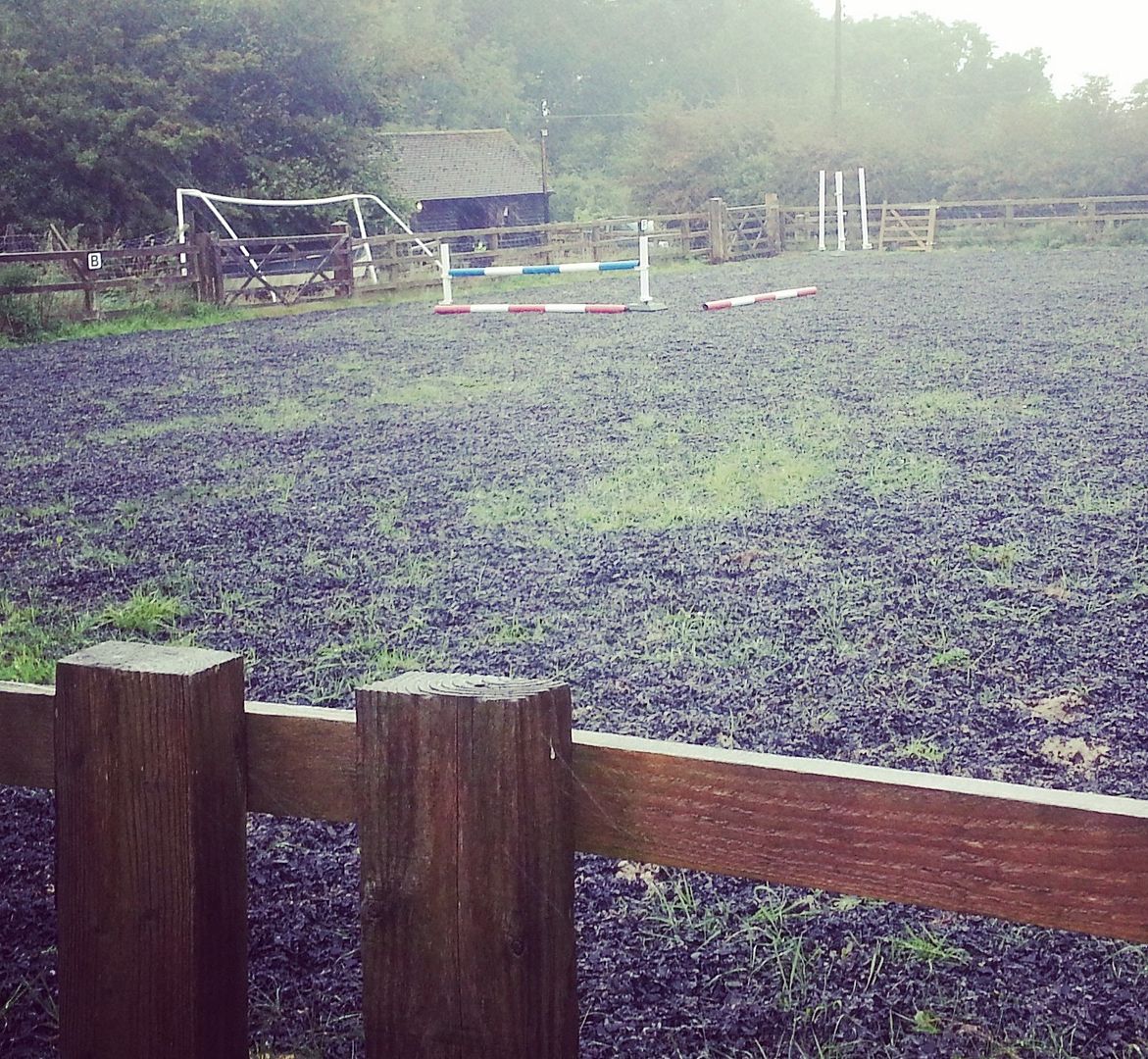 In happier news, I've moved the horses down the lane to a new, private yard. Two stables, six acres of grazing which is flat enough to use as a grass arena for dressage and show jumps, a 20x40 school with rubber surface - it's bliss! Scarlet is finally gaining weight and looking less like a bag of bones, and Comet can't believe his luck - there can't be many 25 year old Shetlands who have the run of a 3 acre field with masses of grass during the day, and a nice warm stable at night. He'd much prefer it if he wasn't made to wear a grazing muzzle, but he accepts (as many of us have to) that he's prone to being hugely fat and has to watch his weight. The yard is a bit run down at the moment, having been lorded over by two goats and multiple chickens for several years, but the guy who owns it has been brilliant about getting fences and gates fixed, stables creosoted and rubber added to the school. There's also the huge added bonus of absolutely no yard politics! Well, I have the odd run in with the goats, but there are no hard feelings about it.
So in theory, Scarlet should now have no excuses for not pulling her socks up. However, I had a lesson last week and she spooked so enormously at a pole on the ground that I fell off into the post and rail fence which happened to have a big patch of nettles growing up around it. So, plenty of room for improvement, I think...
Written by Laura Paine of Dragonfly Saddlery