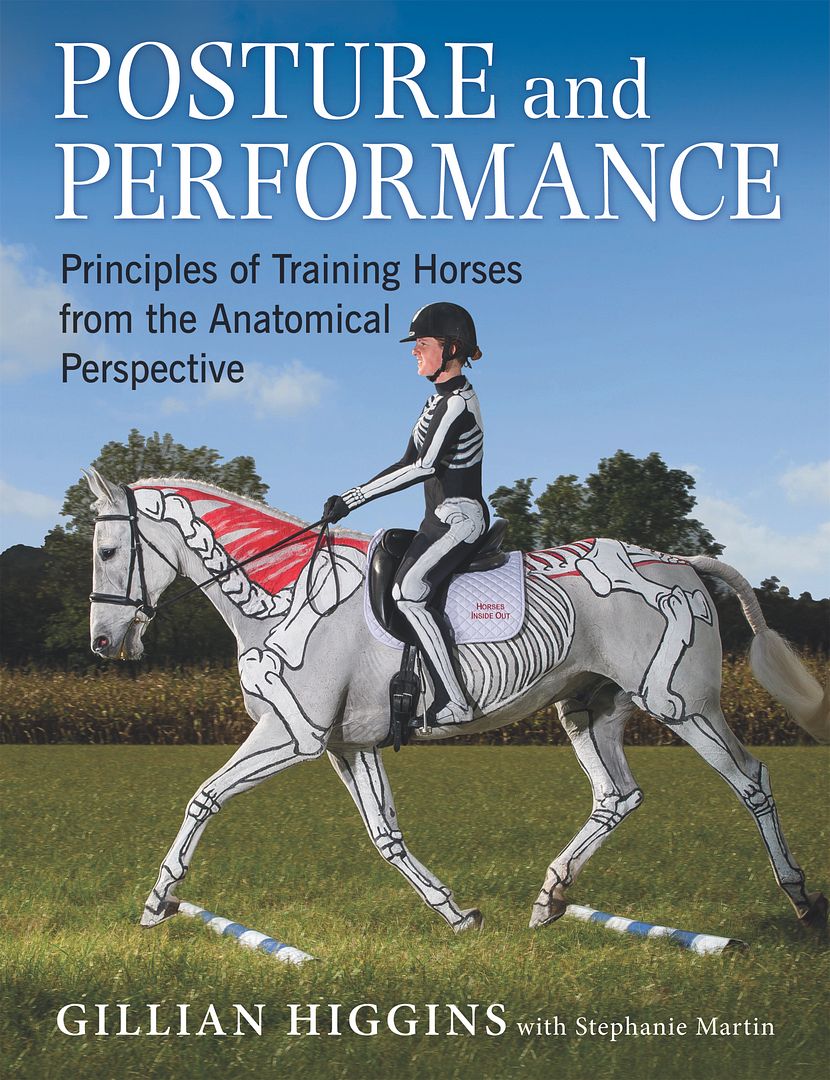 Emma Butler kindly reviewed this super book by Gillian Higgins. This beautifully illustrated book looks at how to deliver a safe, varied, fun, effective and achievable training programme. It provides all the ingredients for riders to make informed decisions to maximise their own and their horses potential, gain more enjoyment, satisfaction and improve their skills. Based on the principles of anatomy and biomechanics with welfare in mind. So here are Emma's thoughts on this book:

"For me this book is like the light at the end of the tunnel. As someone who 'knows' horses I haven't always been able to mechanically picture what I am looking at, all I know is the picture is a harmonious, or that there is something which needs further development.

I've been looking for ways in which I can better understand the mechanics of a horse. As a student I was lucky to be able to dissect various parts of a horse's anatomy over several years, but that was a long time ago and although it was a brilliant experience, I perhaps didn't fully appreciate the enormity of what I was doing or the steep learning curve it could have provided.

So when this beautiful book arrived, I ripped open the package, and started turning the pages to have a quick flick before I started dinner, before long I was so engrossed my husband enquired would it be better if he did dinner.

For me the stunningly painted images, bring to life the animals which I think I know inside out…. But I am ashamed to admit that I had forgotten that the bones of the neck do not hang the way I thought, instead of coming up and out, they extend out and then curve upwards towards the poll. It is being able to see things like this so clearly can greatly help maximize a horse's performance and comfort levels.

Every page I turned literally had me 'ohhing and ahhing' as I slowly began to understand more and more about equine anatomy.

No horse is anatomically perfect and so to be able to explore ways to improve weaknesses and also look at the way in which a horse's body can respond to exercise is a really valuable tool that any rider regardless of their aspirations cannot fail to find useful.

In addition, to be able to see a rider on the horse and the way our skeletal structure adapts when we ride is also hugely informative, I think I am guilty of forgetting that under my many layers of high class, fashionable clothing, I do indeed possess a skeleton, muscle structure as well as a host of other connective tissues! And it is this structure that can hamper, hinder or indeed support my goal of riding in harmony. I know what my body should be doing, but sometimes being able to picture what you need to do, can massively help you, it certainly does for me. I literally couldn't put this book down and when I went onto the yard the next day it was almost like I was seeing our horses with a fresh pair of eyes!

Christmas is coming and receiving this book is guaranteed to delight any rider…that is if they can wait that long and don't go out and buy it themselves beforehand!"

Thank you Emma for a super review and like she says, it would make a great Christmas present for any horse lover! Why not take advantage of being a Haynet member and use your 25% OFF DISCOUNT! So don't delay and come and buy this book today!